Members' Profile
(from 1 April 2022 to 31 March 2024)
Chairman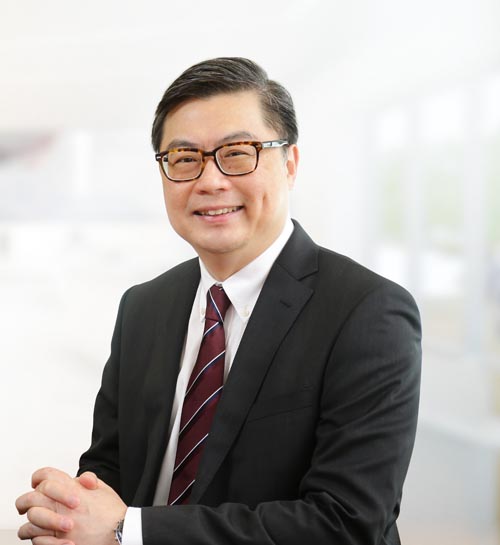 Professor TAM Kar-yan, MH, JP

Professor Kar Yan TAM is Dean of the HKUST Business School and Chair Professor of Information Systems, Business Statistics and Operations Management. Prior to being Dean of the Business School, he was Dean of Students and Associate Provost at HKUST. Professor Tam is a board member of the Association to Advance Collegiate Schools of Business (AACSB) and the European Foundation for Management Development (EFMD) and was the Past President of the Association of Asia Pacific Business Schools (AAPBS). Currently, he is the Chairperson of the Curriculum Development Council of the Education Bureau and serves on the Exchange Fund Advisory Committee of the Hong Kong Monetary Authority. He is also a member of the Hong Kong Productivity Council, the Board of the Hong Kong Metropolitan University, THEi Council, and the Anti-Money Laundering and Counter-Terrorist Financing Review Tribunal.


---
Vice Chairman


Deputy Director-General of Trade and Industry
Mr Francis HO

Francis Ho is Deputy Director-General of Trade and Industry. At the Trade and Industry Department, Mr Ho is responsible for Hong Kong's participation in international or regional economic and trade forums, cooperation with Asia Pacific Region on economic and trade matters, Hong Kong's bilateral trade relations with trading partners in Europe, Asia (excluding the Mainland), Oceania and Africa, negotiation of trade and investment agreements, and information and public relations.
---
Members


Professor CHAN Wai-sum

Professor Chan is Dean and Professor of Decision Sciences at the Hang Seng University of Hong Kong. Previously he taught at the Chinese University of Hong Kong, the University of Hong Kong, the National University of Singapore and the University of Waterloo (Canada). Wai Sum holds a PhD degree from Temple University (Philadelphia, USA). He is a Chartered Enterprise Risk Analyst (CERA), Fellow of the Society of Actuaries (FSA), Honorary Fellow of the Institute and Faculty of Actuaries (HonFIA) and Fellow of the Royal Statistical Society (FRSS). Professor Chan's research interests include economic modeling of insurance assumptions, statistical applications to risk management and economic time series forecasting. He received the SOA Edward A Lew Research Award (second prize) in 2006 and was awarded the Inaugural Teaching Excellence Award by the National University of Singapore in 1992.




Ms Emily CHEUNG

Ms. Emily Cheung is currently the Executive Director of Tsuen Lee Group (Holdings) Limited, holds a Master Degree of Management Information and System from University of Manchester. With over 20 years' experience in the consumer product's manufacturing business and creative industry, Ms. Cheung has a profound experience in ESG application in manufacturing.

Ms. Cheung is currently a member of the Jiang Xi Gang Zhou City Committee member of Chinese People's Political Consultative Conference, Chairman of The Innovation and Creative Industry Council, General Committee member of The Federation of Hong Kong Industry, the Executive Vice President of Toy Manufacturers' Association of Hong Kong, Co-Chairman of Women in Toys (USA)- Hong Kong Chapter, Technical Advisory Committee member of International Council of Toy Industry The Ethical Toy Program (ICTI-IETP). She also served as the Chairman of Hong Kong Toy Council in 2017-2019.

Ms. Cheung awarded Young Industrialist Award of Hong Kong in 2013 for her accomplishments in ESG and creative initiative in manufacturing industry. She is currently the Honorary Secretary of Young Industrialist Council of Hong Kong. She is engaged in promoting creativity in traditional manufacturing Industry and "Made by Hong Kong" outside of Hong Kong.




Mr Geoffrey KAO

Mr Geoffrey Edward Kao is currently the Executive Director of Wah Ming Hong Limited, holds a Bachelor Degree of Economics from Princeton University. With over 20 years' experience in the wristwatch business, Mr. Kao has a profound insight into consumer goods in Greater China Region.

Mr Kao is currently a member of the Shanghai Municipal Committee of Chinese People's Political Consultative Conference and the Vice President of Hong Kong Youth Industrialist Council. He also served as the Chairman of the Federation of Hong Kong Watch Trades and Industries in 2013-14.

Mr Kao was awarded Ten Outstanding Young Persons of Hong Kong in 2014 in recognition of his distinguished contribution to Hong Kong youth programs and his devoted support for Hong Kong vocational education. He was also awarded Young Industrialist Award of Hong Kong in 2010 for his accomplishments in the watch and clock industry.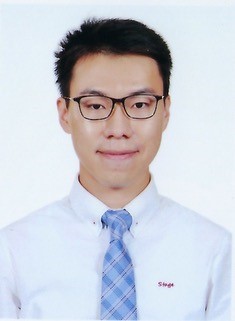 Mr Dickson KWOK

Mr Dickson Kwok currently serves as an English teacher in a local school. He graduated from the University of Hong Kong and earned his Master of Education there. Being interested in international educational development and contemporary educational reform, Mr Kwok has been actively participating in various forms of ventures in education.

Mr Kwok was nominated by the Hong Kong Committee for Pacific Economic Cooperation (HKCPEC) to take up the overseas internship offered by Pacific Economic Cooperation Council (PECC), which has its headquarters situated in Singapore. The experience from the programme has strengthened Dickson's belief that students should not confine themselves to Hong Kong. During his appointment to the HKCPEC, he will continue to reach out to the youth community and promote the role of Hong Kong in regional and international cooperation.




Mr Kelvin LAU

Kelvin Lau is a senior economist of Standard Chartered Bank's Greater China research team, with over 20 years of experience in economic analysis. He specialises in offshore Renminbi development, and provides research on the economies of China and Hong Kong and their integration, including Greater Bay Area development. Kelvin is the co-author of the book The Offshore Renminbi: The Rise of the Chinese Currency and Its Global Future (Wiley, 2012). His views are frequently quoted by international and local media. Kelvin is also the Honorary Economist of the British Chamber of Commerce in Hong Kong. Kelvin graduated from the London School of Economics and Political Science.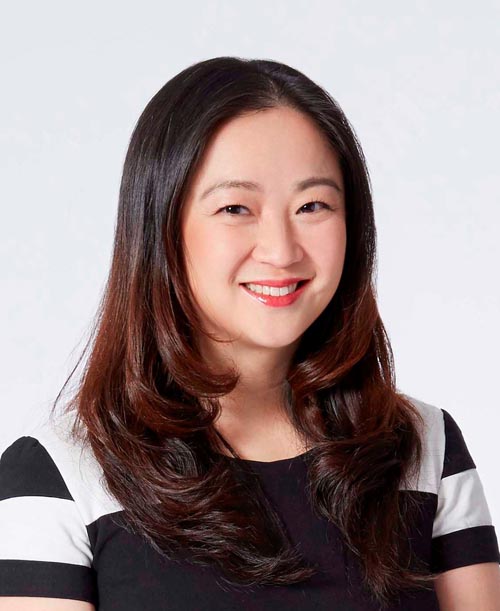 Ms Edith LAW, JP

Ms Edith Law currently serves as the Chairlady of Fashion Farm Foundation (FFF). FFF is a non-profit making organization with the aim to unite fashion designers, cultural practitioners, industry experts and retailers, with both professionalism and expertise to develop and foster their business and the industry within and beyond the territory.

Edith also has a number of public service roles. She has been appointed by the Hong Kong Government to be their represented Council Member at Hong Kong Trade Council Board since 2015 and is the Programme Management Committee of the Enterprise Support Programme under the BUD Fund currently.

Prior to being a retail entrepreneur, Edith has worked as an Investment Banker in New York, London and Hong Kong, at Citibank, Bear Stearns and Peregrine.

Edith is currently the Investment Director of SANVILLE under LAWSGROUP. Equipped with strong financial and management skills, Edith has been the Executive Director at ZTAMPZ Limited responsible for strategic business development, financial and operational management.

Edith received M.S. in Management Science from Stanford University (US) and B.S. in Electrical Engineering from Queen's University (Canada).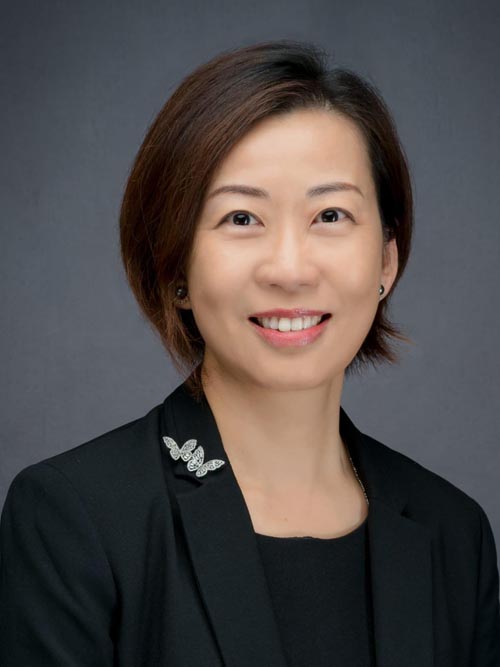 Dr Miranda LOU

Dr Miranda Lou is Executive Vice President of The Hong Kong Polytechnic University, responsible for planning and leading institutional matters in connection with the administration and management of the University's affairs and resources. The scope of responsibility covers finance, human resources, information technology, campus development and facilities management, knowledge transfer and entrepreneurship, subsidiaries management, communications and public affairs, alumni and institutional advancement, Chinese Mainland affairs as well as governance matters.

Dr Lou has more than 20 years of strategic, business and functional management experience in the business and public sectors. Before joining PolyU, her last position was Chief Operating Officer of OOCL Logistics, leading and managing its global business development and corporate functions. Dr Lou is currently the board director of the Logistics and Supply Chain MultiTech R&D Centre, council member of Hong Kong Council for Accreditation of Academic and Vocational Qualifications, member of the Hong Kong Housing Authority, the Standing Commission on Civil Service Salaries & Conditions of Service, the Insurance Appeals Tribunal, Hong Kong Logistics Development Council and the Logistics Management Committee of The Hong Kong Management Association.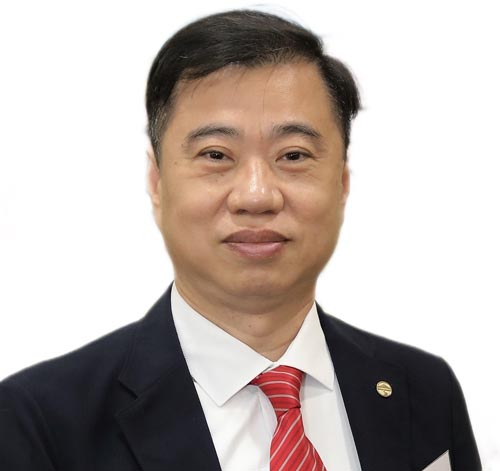 Professor LUI Hon-kwong

Professor LUI Hon-kwong is the Associate Vice President (Projects) and Professor of the Department of Marketing and International Business at Lingnan University. Prior to this, he was Associate Vice President (Academic Affairs and External Relations) overseeing the Registry, the Core Curriculum and General Education Office and the Office of Communications and Public Affairs, and also served as Acting Director of Communications and Public Affairs.

Professor Lui received his Ph.D. in economics from The University of Hong Kong and has worked for a few years as marketing executive in retail industry and as Statistician in the civil service. His research interests include labour economics, applied marketing research, and Hong Kong economy. He is a Council Member of The Education University of Hong Kong and the Chairman of its Audit Committee. He was a Director of JUPAS Board of Management and a member of the Disciplinary Panel A of the Hong Kong Institute of Certified Public Accountants, Solicitors Disciplinary Tribunal Panel and EcoPark Advisory Committee. Moreover, he was a Council Member of the Hong Kong Examinations and Assessment Authority and Deputy Chairman of its Research & Development Committee.




Miss Oriana YEUNG

Miss Oriana Yeung is currently a trainee solicitor at an international law firm that specialises in banking & finance, regulatory, mergers & acquisitions, litigation, funds and related business solutions. She graduated with a double degree in law and politics and public administration from the University of Hong Kong and was on a one-year exchange at the University of Bristol.

In her final year of studies, she participated in the 2019 PECC Internship Programme in Singapore, where she was given a chance to work in this unique tripartite partnership and participated in conferences to understand various regional policy initiatives aiming to facilitate a stable economic development of the APEC region.





Government Economist (or representative)
Dr Cecilia LAM

Principal Economist
Office of the Government Economist
Financial Secretary's Office
The Government of the Hong Kong Special Administrative Region






Director of Research of the Hong Kong Trade Development Council (or representative)
Ms Irina FAN

Director of Research
Hong Kong Trade Development Council


---
Secretary General
Assistant Director-General of Trade and Industry
Ms Noel NG